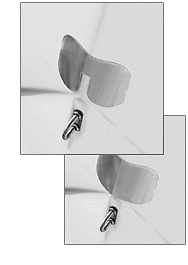 ScuffBuster Notched Stainless Steel BOW GUARD KeelGuard 304 Steel
SCUFFBUSTER Notched Solid Stainless Steel Bow Guard
A quality product of Megaware KeelGuard
Protect your boat from roller and trailer scuffs and abrasions with this stainless steel bow guard!
·          Protects your boat's gelcoat
·          Minimizes roller and trailer scuffs
·          Bends to conform to hull
·          Measures: 5.75" x 4.5"
Made from anti-corrosive, 22-gauge 304 stainless steel. Scuff Buster products attach to your boat's surface with 3M pressure-sensitive adhesive. Application instructions included.
This SCUFFBUSTER Bow Guard is BRAND NEW, comes in original factory packaging. Need a keel guard as well? Check out our other listings for a variety of sizes and colors.
We guarantee exceptional service; buy with confidence!

---
We Also Recommend